Emotional healing isn't about fixing you. You are not a project to be fixed but a person to be loved. It's not through your effort and all that you can do to heal your soul. It's welcoming the presence of God into your pain.
Before we talk about healing your soul, let me ask you a few questions.
Do you ever feel like telling someone how you feel and what you are going through is a burden?
Do you ever feel like no matter how hard you try to communicate, it feels like no one hears you, as if you are speaking in another language?
Do you ever question if maybe it is you?
I can answer yes to all of these questions myself. The pain through the years and the struggle to feel like someone genuinely cares about me has taken time. There was a lot of digging up I had to do to properly bury the pain of my past to begin to heal my soul.
What Does It Mean to Emotionally Heal
We can begin to understand how important renewing our minds to God's Word is and how our pain and feelings can start to build on one another over time. Our minds try to suppress memories to protect us, so it might take some work to dig into our memories.
Therefore, to emotionally heal means to recognize our weaknesses, honor our past, and continue to walk through the pain we are living with courage and wisdom.
I discuss this further in my Spiritual Growth Framework course.
What Does God Say Emotional Healing
I asked myself, "Why do I continue to ignore what's happening on the inside of me? Why am I numbing my pain and pretending I am okay?" What was at the root of all this?
These questions led me to Luke 6:43–44, which reads, "For a good tree does not bear bad fruit, nor does a bad tree bear good fruit. For every tree is known by its own fruit." The part of the scripture that stood out to me the most was that every tree is known by its fruit. Whether the tree produces good fruit or not, the tree is still known by its fruit. Our lives resemble the tree. I asked myself, What kind of fruit am I producing and reproducing in my life?
When we think of a tree, we know dirt and food (fertilizer and light) are required for the tree to live and survive, much like God's Word is required for us to live a righteous and holy life. As a tree gets older, the deeper and bigger the roots get, and the more branches the tree grows.
Standing next to a tree, we cannot observe how deep the roots grow. (In relation to emotional healing this matters.) The tree has its roots in the ground, the trunk for support, and the branches that hold the leaves. We can tell what kind of fruit the tree will carry with everything we can see about the tree.
Although we may not be able to tell a fruit of a person by looking at them, we can tell by the words they speak, what is happening in their lives, what they are experiencing consistently, and their actions.
When we are young, our memories, experiences, and traumas are minimal. Our experiences change from childhood to adulthood. The roots of a young tree are similar: They are not fully developed or have the strength they will in ten years. Years go by for the tree to mature. Our childhoods help us form many of the viewpoints we carry into adulthood. How we grew up, were treated, and were spoken to shape how we see, act, and talk as adults in this world.
Those memories, experiences, and traumas become the thoughts we think; they can form our identity and the base of who we are. When we think of a tree trunk, we think of a sturdy, strong base for the tree to grow and blossom. Our thoughts and experiences are our base. They determine whether we blossom, how we blossom, and what fruit we bear. As we get older, much like a tree, our base gets bigger. We have more thoughts and more experiences. With emotional healing, the deeper our roots the more time it can take to heal.
Our thoughts determine the emotions we feel. Trees have many branches. Think of these branches representing the many different emotions we can feel based on our thoughts. The more thoughts we begin to have, the more we will begin to experience them in reality.
The emotions we feel begin to affect every area of our life. Now, think about the little branches that extend off the tree's main branches. Those little branches represent the different areas of our life affected by our emotions, whether good or bad.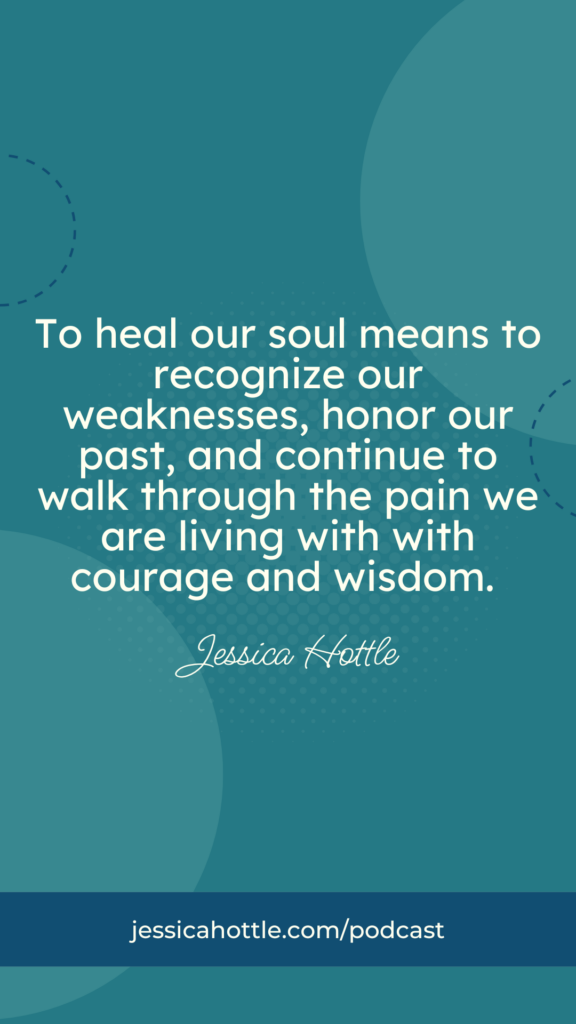 How Do You Emotionally Heal
1. Start to welcome what happened. For too long, we ignore and suppress what is happening in us, which is why we respond the way we do to what is happening around us.
Colossians 3:12-14 says, "Put on then, as God's chosen ones, holy and beloved, compassionate hearts, kindness, humility, meekness, and patience, bearing with one another and, if one has a complaint against another, forgiving each other; as the Lord has forgiven you, so you also must forgive. And above all these put on love, which binds everything together in perfect harmony."
When emotional healing, we want to be kind and gentle with our pain. What does it look like to clothe ourselves?
2. What do you do with the pain when it comes? This will take time, and you can't do it alone.
This will take continued obedience to God's word and surrendering all the feelings you have at Jesus' feet. I am not saying we ignore anything. However, apart from the Vine, we can not bear fruit in His name. To walk through pain without Jesus will be hard to bear fruit. The last thing we need is to try to figure out everything by ourselves. Our flesh doesn't produce fruit. The Spirit in us does.
3. Keep showing up in the hurt when you want to shut down.
Everything in us will want to shut down, run away, and/or cause us to get angry because, for many, that is their defense mechanism, so no one gets close. The last thing we (our bodies) will want to do is to heal our souls. The most primitive part of our brain (survival) will want to go back to what is familiar and what it has been through before. To keep showing up, emotionally healing, is to live in the tension and to begin to get comfortable in the uncomfortable feelings.
Sign up for my Spiritual Growth Framework course for much more in-depth teaching. You don't have to continue to live in pain, and believe you are alone, abandoned, or rejected. Jesus has something better for you.
Praying for you,