Below are 10 healing scriptures to stand on when you feel like your feelings are winning the war between your ears.
We are taught how to learn, memorize, and quote scripture, but we are not taught how to rest, listen, and know His love on an intimate level. (Requiring us to understand how relationships work and are built.)
We end up with people who know the Bible but do not know God. Let's read and pray these healing scriptures but also live them out when the enemy comes for us.
When we hold both in our hands, doctrine/logic and emotion/connection, we experience the fullness of God. (Learn more about healing scriptures and healing emotionally with God in my book Face Off with Your Feelings.)
When we begin to believe God is not only good to others but also good to us, kind to guide us, and firm in correction towards us, our words begin to change.
His love causes us to change our words.
Why Read Healing Scriptures?
His love welcomes healing. The callousness around our hearts softens, and the walls we build tumble down. One of God's names is Jehovah-Rapha, The Healer. He is The Healer. Not someone who wants you to believe sickness came from Him. Read about healing in the Bible to know what is available to you.
As you read through these scriptures, think about love and relationship more than quoting and memorizing.
Healing is available to us right now. Sometimes we have to welcome God in and ask Him to show us the areas of our hearts and bodies that need attention. Don't put God in a box when it comes to your healing.
Enjoy reading through these ten healing scriptures while being reminded of the healing power of God.
10 Healing Scriptures
3 John 1:2
"Beloved, I pray that you may prosper in all things and be in health, just as your soul prospers."
I love this prayer and this truth: He wants us healthy
Our soul is our mind, will, and emotions
Health and healing are a part of His will for us
Prayer: Thank You, Father, for guiding us and leading us on Your path to healing and what it means to heal. I pray for guidance and wisdom to walk through my pain with You knowing I will not be alone.
Isaiah 53:4-5
"Surely He has borne our griefs and carried our sorrows; yet we esteemed Him stricken, smitten by God, and afflicted. But He was wounded for our transgressions, He was bruised for our iniquities; the chastisement for our peace was upon Him, and by His stripes we are healed."
The word for "griefs" is the Hebrew word choli, which means sickness
The word for "sorrows" is the Hebrews work makob, which means pain
Raphe is the word for "healed," which means to heal, to mend, to cure, to make whole
One of God's names is Jehovah-Rapha, the God who heals
Prayer: Thank you, Jesus, for taking sickness and pain on the cross for me. I receive and stand in agreement with You for my healing. Thank You for Your Word, love, and healing scriptures reminding me what You have done for me.
1 Peter 2:24
"He himself bore our sins" in his body on the cross, so that we might die to sins and live for righteousness; "by his wounds you have been healed."
When Jesus went to the cross, He became sin for us so that we would be made righteous of God in Him (2 Corinthians 5:21)
Jesus took stripes and was beaten for our healing as well
In physical health and emotional health, healing and health are ours
Prayer: Your Son paid a debt I could never have paid. Thank you for never leaving me in my sin but for making me new. My old man has passed away. No longer am I a slave to it or anything that tries to prosper from it. Amen!
Psalm 103:2-3
"Bless the Lord, O my soul, and forget not all His benefits: who forgives all your iniquities, who heals all your diseases."
Remember the benefits that come with accepting Jesus as your savior
The benefits include forgiveness of all sins and healing made possible
He's a good Father. He gives good gifts and provides healing for us
Prayer: Father, thank you for sending Your Son to die in my place. Not by my works do I receive but by grace alone. Thank You for loving me and healing me. I receive Your love, in Jesus' name.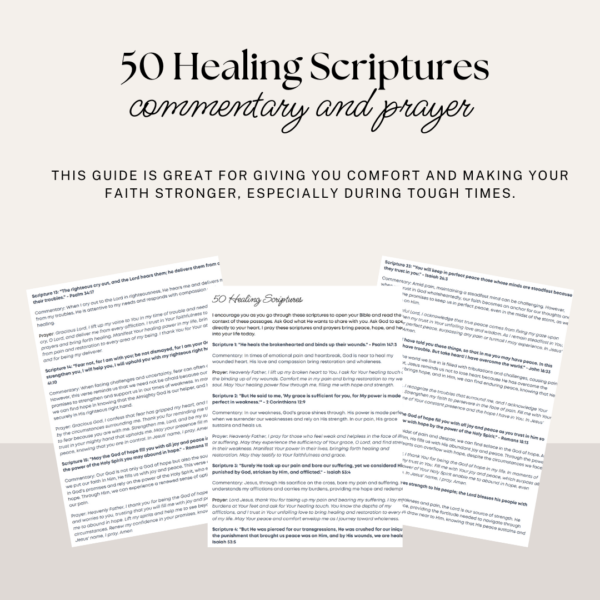 50 Healing Scriptures: Commentary and Prayer
Need hope? Learn about the healing power of the Bible with this guide! Here, you'll find 50 handpicked verses known for their healing messages. Along with each verse, there's a simple commentary and a prayer to help you understand better. This guide is great for giving you comfort and making your faith stronger, especially during…
Proverbs 4:20-22
"My son, give attention to my words; incline your ear to my sayings. Do not let them depart from your eyes; keep them in the midst of your heart; for they are life to those who find them, and health to all their flesh."
His word is life and health to us
His word brings healing
What we meditate on and focus on will bring us life or death
Prayer: Father, help me hear Your word and not the world's words. Help me to focus on the words coming out of my mouth, so they speak life over my mind and body. I thank You for showing me Your way in Jesus' name.
Matthew 9:20-22
"And suddenly, a woman who had a flow of blood for twelve years came from behind and touched the hem of His garment. For she said to herself, "If only I may touch His garment, I shall be made well." But Jesus turned around, and when He saw her He said, "Be of good cheer, daughter; your faith has made you well." And the woman was made well from that hour."
He will meet you where your faith is
He shows no favoritism
Who and what we put our faith in matters
Prayer: Thank You for meeting me where my faith is. Help me to live by faith and not by what I feel or see. I am in this world but not of this world. Help me to bring heaven to earth in this body. In Jesus' name.
Luke 6:19
"And the whole multitude sought to touch Him, for power went out from Him and healed them all."
Matthew 9:35
"Jesus went through all the towns and villages, teaching in their synagogues, proclaiming the good news of the kingdom and healing every disease and sickness."
Jesus only did what He saw His Father doing. He is in the business of healing people
People could simply touch Jesus and the power inside of Him would heal them
The way we "touch" Jesus is through receiving by faith the power that He has freely provided to us
He wants to see you well. He didn't give this to you.
Prayer: Father, all of Your promises are yes and amen. I stand in the promise that You want me well. That I matter to You. I reject anything trying to come against me. It has all been put under my feet because of Your power within me, in Jesus' name.
Psalm 107:20-21
"He sent His word and healed them, and delivered them from their destruction. Oh, that men would give thanks to the Lord for His goodness, and for His wonderful works to the children of men."
Our heart posture matters
God sent His Word to heal you and deliver you from all of your destruction
As you are standing in faith for healing give thanks to the Lord
Our thought life matters
Prayer: Father, I praise You during every challenge I face. I know you don't cause destruction to come against me or wish evil upon me. I thank You for your protection and surrounding me with Your angels, in Jesus' name.
Psalm 73:26
"My flesh and my heart may fail, but God is the strength of my heart and my portion forever."
There will be times when you don't "feel" like anything is happening that doesn't mean that God is not at work in your life
You don't have to feel something for His word and promises for your life to be true
He wants you well which means you don't have to believe the lies from the enemy about "sickness"
Prayer: Father, I thank You for continuing to work and heal me even when I don't see it or feel it. I am thankful that you never change how you feel about me when I don't feel it in Jesus' name.
Are you ready to live by faith and not by what you feel? Get my free chase, God, not your feelings guide.